Our Most Important
Engagement? Yours.
We're the strategic partner who will walk the distance with you.
Digital Consulting
Wherever your digital journey is taking you, we're ready to jump in and help. Our services span digital strategy, design and build, and implementation across a range of technology platforms. Accelerate your transformation by leveraging our assessment and advisory services, proven methodologies, proprietary accelerators and enablers, and change management expertise.
Key Challenges Driving Digital Transformation Trends
Five Ways to Thrive on Change
Positioning your business to thrive on change requires embarking on an ongoing digital transformation journey, not just aim toward a final destination. Our holistic, connected digital consulting approach enables you to achieve speed, visibility, automation and resiliency – and build a more intelligent enterprise.
1. Build a Strategic Foundation
Transformation is an iterative process. Start by building a foundation tying business outcomes to digital solutions. Establish a solid framework that prioritizes your business goals, identifies critical chokepoints and enables strategic planning to create a lasting process. Your foundation should be broad, cutting across KPIs and incorporating sound technology strategies and a scalable infrastructure that leverages AI, IoT, cloud and other digital solutions.
2. Focus on End-to-End Visibility
Arm employees with powerful decision-making tools and give customers self-service access to insights. Visibility can be achieved through strategic systems integration and by breaking down data silos and combining internal data sources with publicly available data exchanges. Data lakes provide a common data model, allowing structured and unstructured data to be cleansed, transformed, and made available and easily digestible in real time.
3. Pick the Right Technology Battles
With so many technology options available today, it's easy to get overwhelmed. What's most important is having a sound technology strategy that stays ahead of the curve, an ecosystem that binds technology to desired business outcomes, and a strong governance program to manage data lifecycles. This is critical to establishing a digital infrastructure that supports incremental innovation and turns disparate data into meaningful, actionable insights.
Build a culture and processes that encourage business-driven innovation along the digital transformation journey. Hiring people with an innovation mindset can spark a cultural shift, and cognitive automation technologies can ease and enable more powerful decision-making and better results. Empower your people to be nimble, deliver in short sprints, and find creative ways to innovate in motion – and in turn drive rapid, measurable change.
Assess, plan and prioritize your technology strategies. Zero in on one action that will have the biggest impact in the shortest time. Pilot an agile use case with a rapid time to value that nets tangible business results. Given that most modern technologies are modular and cloud-based, it's easier than ever to re-orient and reset, if needed. And remember, early learning is part of the journey, so take every hiccup in stride while continuing to push forward.
Our Digital Consulting Services Drive Measurable Business Value
Efficiency Gains Post-Diagnostics and System Optimization
User Adoption within 8 Weeks of New Solution Go-Live, Driven by OCM
Reduction in Supplier Approvals via Automation and Self-Service Tools
Fewer Manual Touchpoints in Critical Business Processes
Lower Operating Costs Resulting from Process Reengineering
The companies that win today and in the future will be the ones that lead with an innovation mindset and embrace digital transformation as the journey that it is. These organizations will do more than just adapt in order to survive disruption; they will deploy solutions and processes that position them to truly thrive in the face of relentless change.
Stay ahead of the curve and gain added value by tapping into our strong partner ecosystem and integration engineering expertise.
Meet Our Partners
Through our proprietary, customized accelerators, we empower enterprises to leverage cutting-edge technologies to accelerate solution deployment, increase user adoption and maximize business value.
NEO DATA LAKE®
Modern data lake accelerates the building of an intelligent unified data layer that enables cross-system integrations.
Common data model and rich set of prebuilt integrations.

Interactive and embedded data science tools and analytics.

Enterprise-ready SSO, role-based access, admin and reporting.

Cloud-native, SaaS, serverless computing, pay-as you-go.
RAPID INSIGHTS 360°
Prebuilt analytics solutions targeting critical KPIs across Spend, S&OP, Inventory and Plant Maintenance Operations.
Deep data-driven insights.

Intuitive and interactive.

Drill-down capabilities.

Rapid time to value.
DOC.AI
Extract information from paper and unstructured transactional documents and reduce manual handling to improve efficiency.
Automatically extract key data fields with OCR/AI algorithms.

Quick document handling with higher degree of data accuracy.

Transfer extracted data into digital systems and workflows.
Explore these resources to learn more about our Digital Consulting services.
Videos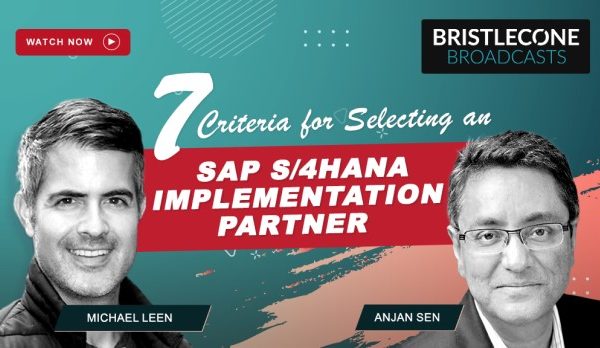 What to Consider When You're Choosing an S/4HANA Partner
Choosing an implementation partner is just as critical as choosing a platform to implement. In this broadcast, we share seven things to look for in a partner.