Make Digital Part of Your DNA.
Accelerate innovation and improve outcomes.
Life Sciences
Life sciences companies are eagerly embracing technology to digitalize and optimize their supply chain ecosystem, automate processes and enable data-driven decision-making, enhance collaboration, mitigate risk, improve governance, accelerate innovation, and ensure patient centricity.
Key Challenges Reported by Life Sciences Leaders
Power the future of your intelligent enterprise and create unmatched business value with our transformative industry solutions.
Our Life Sciences Solutions Drive Measurable Business Value
Decrease in Manual Logistics Tracking
Increase in Asset Utilization
Improvement in Service Levels
Thrive on change with our specialized digital transformation services spanning strategy, design and build, and implementation.
"I wanted to work with a partner that would come in and say 'no, that's a stupid idea, and maybe you should go down this path' and challenge us to get to the right solution, and partner with us – where the rubber hits the road, not the conceptual 50,000-feet you-could-do-this – and that's really the value that we get out of Bristlecone."
Leon Trevett
Director, Illumina
"Bristlecone is a partner that helps us get smarter so that we can be more effective as a business."
Gabe Peterson
VP, Varex Imaging
"The team is nimble and agile. They have been very responsive to the changes that we are coming across."
Sri Kalluri
CIO, Cepheid
Through our proprietary, customized accelerators, we empower enterprises to leverage cutting-edge technologies to accelerate solution deployment, increase user adoption and maximize business value.
S/4NOW LIFE SCIENCES
Industry-specific SAP-qualified partner-packaged solution for SAP S/4HANA accelerates new deployments and conversions.
Fixed price, fixed scope.

Proven framework.

Best practice templates.

Industry-specific process maps.

Customized training materials.
TRACE.AI
Real-time customer order tracking and condition monitoring using an IoT-enabled tracking solution.
Leading indicators for ETA/EQA for multi-carrier tracking.

Automation with ERP and TMS.

Timely alerts on delays, missing assets, counts and performance.

Location/movement visibility.
IBPNOW
Packaged solution for SAP IBP accelerates time to value, reduces implementation risks and increases user adoption.
Preconfigured industry-specific scenarios and assets.

Customizable documentation and training materials.

ERP integration templates.
ARIBA NOW
Packaged solution for SAP Ariba accelerates deployments, drives predictable outcomes and maximizes business value.
Standard configurations and ERP integration interfaces.

Best practice templates and industry-specific process maps.

Customized training materials.
Explore these resources to learn more about our work with life sciences companies.
Videos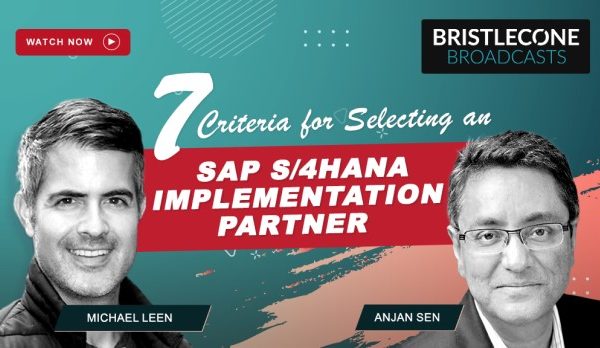 What to Consider When You're Choosing an S/4HANA Partner
Choosing an implementation partner is just as critical as choosing a platform to implement. In this broadcast, we share seven things to look for in a partner.